If you read our last post, you know that we've been thinking a lot about where to live, when we first move down to Portugal in July. Since we are going to build a house on our land, we currently don't have anything that we can live in. So we've considered buying a yurt, a container home or to just rent something close by. After reading all the comments under our video and all the messages we received, we noticed that there was one option, we may have discarded a little too early: a mobile home!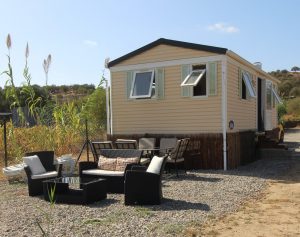 The ones we had seen in the past, were all very expensive and did not really look like something we thought we could feel comfortable in. But then Jack noticed a post in one of the Facebook Groups, someone was selling a second hand mobile home, which actually looked pretty nice. We contacted the owner and a few days later it was a done deal. We are now the proud owners of a mobile home. Well, okay, so far we own 10 % of it. Because of Covid we could obviously not go down to look at it but we paid a deposit to the owner and arranged a pick up date in June. Fingers crossed that everything works out, so that we can go down in June to pick up the mobile home and bring it to our land!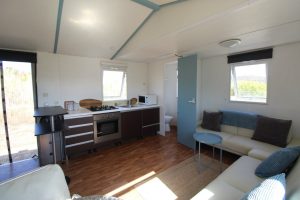 The mobile home is about 30 square meters big. It has a kitchen and living area, one bedroom, a bathroom and a separate toilet. So it is pretty basic but it has all we need. And most importantly, we get to live on the land right away, which is what we really wanted! All in all the mobile home seems to be in a good condition and with a bit of fresh paint we are sure that this can become a comfortable home for us for the next year or two. And at the price of 7.000 € it seemed to be a really good deal.
We are planning to live completely off grid, using solar power for our energy supply and the water from our well for showers, dishes, cooking, etc. This means we have a lot to plan, learn and figure out but that's what we love to do and we really enjoy to plan out how everything is going to look and work. So exciting! It will be such an adventure to make this mobile home off grid and to live in it. We are so so happy that we figured out a way to live on our land straight away. We can't wait to experience all the seasons on the land, see how it changes and start transforming the land into a little piece of paradise. Plus, it means we can definitely (finally!!!) get a dog and maybe even chickens! We could not be happier right now!