What a crazy few weeks it's been! We hope you and your loved ones are all healthy and well and you are making the best out of these circumstances. As probably most of you we've been staying home these last few weeks and only left our apartment to get groceries or some fresh air. To be honest, since we work from home anyway, daily life hasn't changed that much for us. But we do miss being able to meet our friends, going to the cinema and visiting relatives. Fingers crossed we can do all these things again soon.
On the plus side, we had time to create some more content for you. We thought we'd share our thoughts about our move to Portugal with you. We have to decide where we want to live at first, when we make the move down, which (hopefully) will be in summer. If you want you can check out the YouTube Video or keep on reading, we'll summarise everything here for you.
We've spent a lot of time thinking and talking about different options but we still don't know what the best course of action would be. So far we've considered the following four options: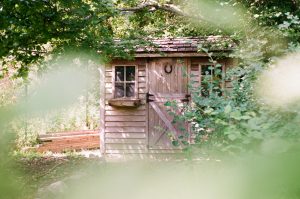 Option 1 – Wooden Shed:  We were thinking about putting up a small wooden shed (you know like the ones you can put in your backyard as a little garden shed), insulate it a little and then live in there for a year until the house is getting ready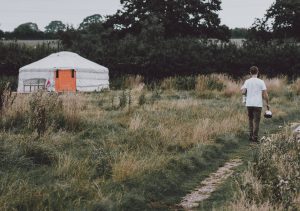 Option 2 – Yurt: We've seen some beautiful yurts on YouTube a while back and always liked the idea to live in one. So we thought this would be a great opportunity to buy one and live in it until the house is ready.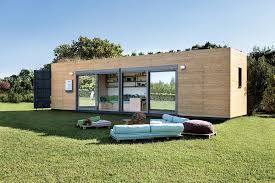 Option 3 – Container Home: Initially we thought about a mobile home, which then lead us to container homes. This was funny because when we first started designing the house and the units, we considered using containers. However, when we priced it up, it didn't made much sense as there was hardly any price difference between building with containers and a regular brick and mortar construction. But in our search for a mobile home, we found a little company in Greece, Cocoon Modules, which makes beautiful container homes and we completely fell in love with one of their modules. At first the prices also seemed very reasonable, although after speaking to them we found out that the prices would be quite a bit higher than initially quoted.
Option 4 – Renting: Lastly we could also simply rent a small apartment close to the land, ideally not more than 15 minutes away, and use this as our base for the next year, until the house is ready.
So here we go, these are the options. Or better, these were the options. Because after checking the law in this region of Portugal again, the wooden shed and yurt are out of the running. This is because we would want to live on the rural part of the land as the urban part is where the house will be built and would need to be kept free. On the rural land, we are only allowed to put up a temporary structure that is moveable (and even that is sometimes debatable). A yurt or a wooden shed do not count as moveable, as they can't be moved in one piece but would have to be assembled and disassembled. So these two options won't work, which leaves us with the container home or a rental apartment.
This is where our dilemma is now. We are completely in love with the container home and just love the idea of living on the land straight away. After five years of waiting, we are so keen to just get there and live on the land. Also we really like the idea of living in a very small space for a while. We've been minimising our belongings a lot over the last few years and already live quite minimalistic but this would be a whole new experience. But, as awesome as it would be, it's not cheap and would cost a lot more than renting a place for a year. The Container home is also riskier, as they are a grey area in this region and it wouldn't be a 100 % legal.  Lastly, it also comes with more stress and headaches. We would need to sort out the transportation from Greece to Portugal and getting it into the right place on the land. Especially the shipping situation is very unclear under the current conditions and there are generally many unknowns regarding the costs, transportation and delivery of the container. On the other hand, we might be able to sell this container again in a year or get a permission for it to rent it out as an extra unit later on. So if everything goes well, the container could end up costing less than renting for a year. But, then again, it isn't completely legal and if we get shut down after a few months, or if we can't sell the container afterwards, we are down quite a bit of money that we need for the house.
So this is where we're at and at this point we think renting a place would probably be the smartest and most hassle-free option. However, it would also be the most boring option. We really really like the idea of living on the land and having a bit of adventure for a year, so our hearts haven't completely given up on this idea yet. We've decided to share these thoughts with you as we always like to hear other opinions and thoughts. Maybe there is something we haven't considered or another aspect to one of the options we didn't think about? If you have any thoughts or ideas, please leave us a comment, we would love to hear them.
Stay safe and take good care of yourself,
Hannah & Jack